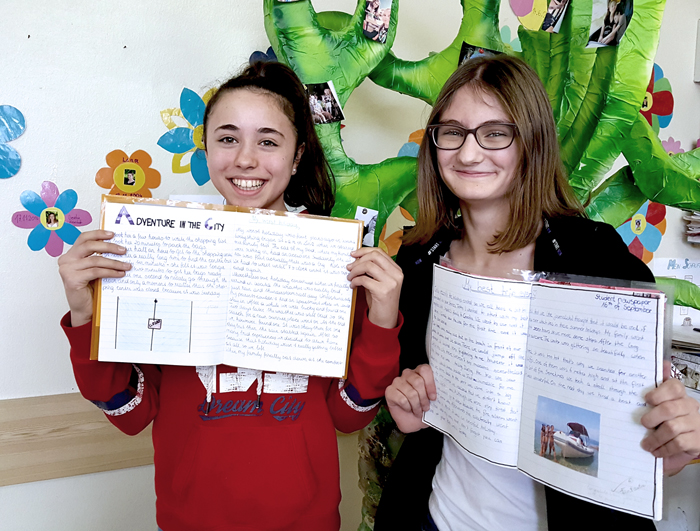 English Writing Contest – 3.Klasse
Urlaub war im Wintersemester ein wesentliches Thema im E-Unterricht der 3.Klassen. Die Schüler/-innen tauschten eigene Urlaubserfahrungen aus, trainierten das Buchen von Transportmitteln und setzten sich auch intensiv mit dem Schreiben von eigenen Texten auseinander. Um das Ganze spannender zu machen wurde ein Schreibwettbewerb ins Leben gerufen.
The students participated in a writing contest for a fictional school-magazine. Instead of just handing in their texts for correction, the students had to revise and improve their own articles/stories several times to hone their writing and vocabulary skills.
In the end, the teachers chose the winners, which turned out to be a challenge in itself, due to the high quality of the material.
Nevertheless, here are our winners:
---
MY BEST TRIP EVER
Only recently the holiday ended so we all have a lot to tell. And we – the journalists – thought that it would be cool if you sent us your stories. Today I wanted to start with my best trip ever which was in these summer holidays.

My family went together with Sophie's family to Croatia. We went by car and it took seven hours so we made some stops. After the long drive I finally saw the sea for the first time and it was so awesome. The water was glittering so beautifully when the sun went up.
Our hotel was really nice but on the beach in front of our hotel it was too hot, that's why we searched for another place to swim and lie down. There we could jump off the cliffs. One of them was 6 metres high and at the first moment it looked very frightening to me, however, it was a lot of fun. Sometimes we took a stroll through the city. In this city there weren't any museums nevertheless it was wonderful.
On the next day we hired a boat and the boat trip was thrilling. During the trip we saw dolphins which swam beside us. That was incredible for me. When we drove back to the port we came into a big storm. At that moment we realised that we didn't know where the lifebuoy was.
Although we were very tired that evening we couldn't go to sleep because the fire alarm went off. I don't know why. Afterwards, the electricity went down.
Yes, I think it was an eventful holiday.
So, that was my story and don't forget you can send us your text until Friday.
Marie Karger, 3d
---
My worst holiday
My worst holiday was four years ago in Croatia. Everything began at 4am in Linz when we started our family trip. The car of my dad, where my family were sitting in, had an accident. Suddenly the car's tire was flat, actually there was a big hole in it. We had to wait until 7 o'clock until it was repaired again.
Nevertheless our holiday continued. When we finally arrived in Croatia the weather was really bad, just rain and thunderstorms all day. Unfortunately, my parents couldn't find an apartment where we could stay in. After a while we were lucky and found one.
Two days later the weather was still bad. So the search for a new, sunnier place went on.  In the end we, however, found one. It was okay there for one day but then the rain started again. After so many bad experiences we decided to drive home because that holiday wasn't getting better at all, so we left.
When my family finally sat down at the comfortable sofa we all knew that the best thing of travelling is coming home and it is definitely the best place you can be.
Later all of us remembered the horrible holiday. In fact, Croatia 2013 was our worst holiday ever.
Magdalena Reiter, 3d